Extreme High-Power Density Module
The Scorpion I/O Board is an optional circuit board that can be purchased along with the Scorpion Servo Module. The I/O Board provides the user with a platform that can be used for rapid system development with readily-available connectors, prior to the design of a user-defined Board that will mate with the Scorpion Servo Drive Module.
The I/O Board provides all the connections necessary for motor control. Signals are arranged into groups, by connector: Motor A Feedback, System / Service (including Communication), and Motor B Feedback, and voltages are arranged by VBUS In, 28 VDC In, and Motor Phases A/B/C Out.
Refer to ESI Document 100322, Scorpion Datasheet for the electrical characteristics of each signal and voltage.
A 5 V regulator on the I/O Board is used convert the 28 VDC Input to power both the Scorpion Servo Module controller (VLOGIC) and external motor feedback devices (up to 2.5 A).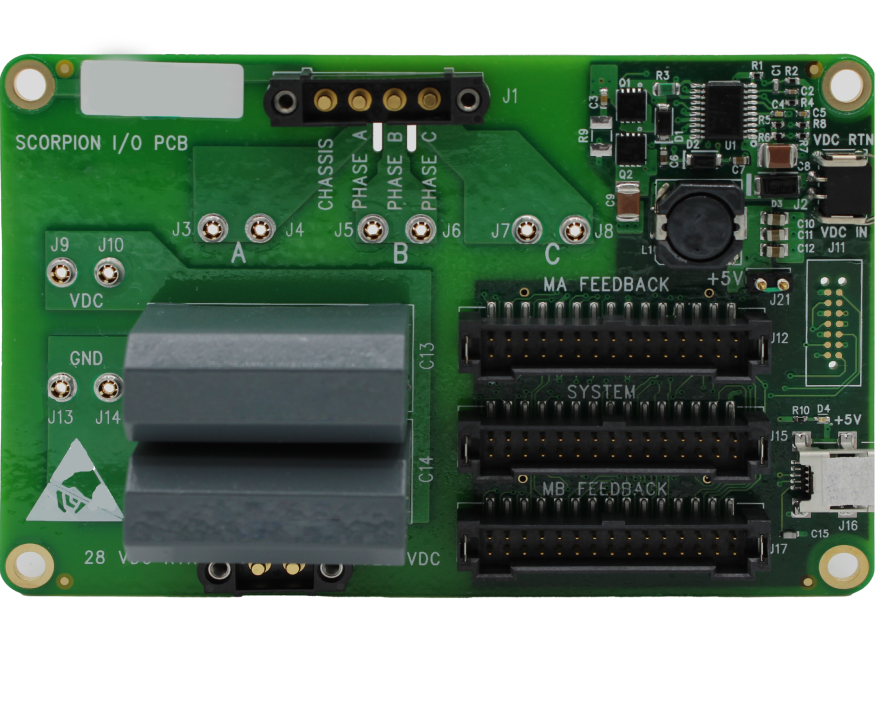 Features:
Facilitates rapid initial integration and lab test
Voltage conversion from 28 VDC provides 5VDC to power both Scorpion's VLOGIC and external motor feedback devices (up to 2.5A)
5V Power LED Indicator
Size: 4" L x 2.6" W x 1.0" D
Standard Connectors for:
VBUS Power Input
28VDC Input
Motor Power Phases A, B & C Outputs
Two Feedback Connections
System / Communications
USB
What Can The Scorpion Do For You?
The Scorpion is as powerful as it is easy to use. This servo drive module evolved from our long running Dragon series 24V to 610V, the core of ESI Motion's integrated "plug-and-play" control solutions. It provides unprecedented power in a lightweight compact size. Our engineers are available to work with your engineering team to configure the Scorpion according to your project requirements. We can help you design the perfect variation quickly and efficiently, as well as determine production needs. Contact ESI Motion to begin working with our team on your servo drive solution today!
IMPORTANT INFORMATION
ESI Motion makes no warranty, either express or implied, including but not limited to any implied warranties of merchantability and fitness for a particular purpose, regarding any marketing materials and makes such materials available solely on an "as-is" basis. In no event shall ESI Motion be liable to anyone for special, collateral, incidental, or consequential damages in connection with or arising out of the purchase or use of these materials, and the sole and exclusive liability of ESI Motion, regardless of the form of action, shall not exceed the purchase price of this product. Moreover, ESI Motion shall not be liable for any claim of any kind whatsoever against the use of these materials by any other party.